Enrolments at Bellevue
If you wish to enrol your child at Bellevue School we encourage you to do so at least 3 months prior to your child starting. This helps us to place your child in a classroom appropriate to their current learning level. Once your enrolment has been processed the office will be in touch with you to organise a time to meet with the Principal.
You can complete the Enrolment form online, or collect a hard copy from the school office.
To enrol your child, please bring in:
NZ birth certificate or NZ passport (if NZ citizen) OR
Australian passport (if Australian citizen) OR
NZ residency permit or NZ student visa/permit and Parental work permit (if the child is not a NZ citizen).
Record of Vaccinations / Immunisation certificate
Completed enrolment form (if done on paper)
Proof of address (if in zone eg: utility bill, rental / sales agreement)
A Copy of any Court Order Documents (if applicable)
Transition to school
At Bellevue School, we aim to make your child's transition to school as smooth and easy as possible. We welcome you and your child to visit prior to starting school and encourage children to attend at least 2 pre-school visits in a New Entrant class. These visits are flexible and we are happy to arrange additional visits to cater to the needs of your child. For the first visit we encourage parents to stay in the class to support this transition however during subsequent visits you may wish to leave your child for a short break but please note, as a legal requirement, you are required to stay on site. Transitioning to school can be a big step for young children and parents alike, and it can help to build certain skills in your child before they start school so they will be better equipped to begin their school journey.
Being independent and able to manage themselves and their belongings are the most crucial elements for making children feel comfortable and able to cope within the school setting. Academic skills, while helpful, are not the most important things for your child. We encourage children to have opportunities to see and talk about the world around them; including letters, sounds, shapes, colours, numbers and other things of interest. It is not essential for your child to know all of their letters and numbers before starting school as introducing these are key parts of our early learning experiences. We provide a play-based learning environment in our New Entrant classrooms and you can support this at home by encouraging your child's curiosity, creativity, questioning, and by talking about their interests.
School lunch orders
Special lunch orders are advertised through Hero. Payments for these need to go through Kindo, please see instructions below.
Kindo online school shop
Our Kindo online school shop is designed to make it easy for you to complete permission slips and view, register and pay for all of your child's needs.
No cash, no paper, no hassle!
Our preferred method of payment, and we encourage you to set up your account today.
Questions?
Please contact the school office on (07) 576 5916, or contact the Kindo helpdesk on freephone 0508 454 636, or email hello@mykindo.co.nz.
First Time Users
Click here if you are a first time user of Kindo. You'll need to register to set up your account.
All you need is your email address which matches the one held by the school.
Online Tutorial
Using myKindo to purchase and pay Click here.
Registered Users
Click here to use Kindo online to make full or part payments for all school activities and donations, register and pay for school sports teams, support fundraisers and complete permission slips.
Choose to pay as you go, add funds to your Kindo account in advance, use internet banking, account2account or Visa/Mastercard (fees apply).
Absences
How to report an absence in Hero
If your child is going to be away from school due to sickness, an appointment or any other reason, please notify the school as soon as possible by using the Hero app.
There is a 'Report an Absence' icon on the homepage of the app
Click on the 'Report an Absence' icon
Select the reason for the absence (add in any message if you need to)
Click 'Send message' and you're done!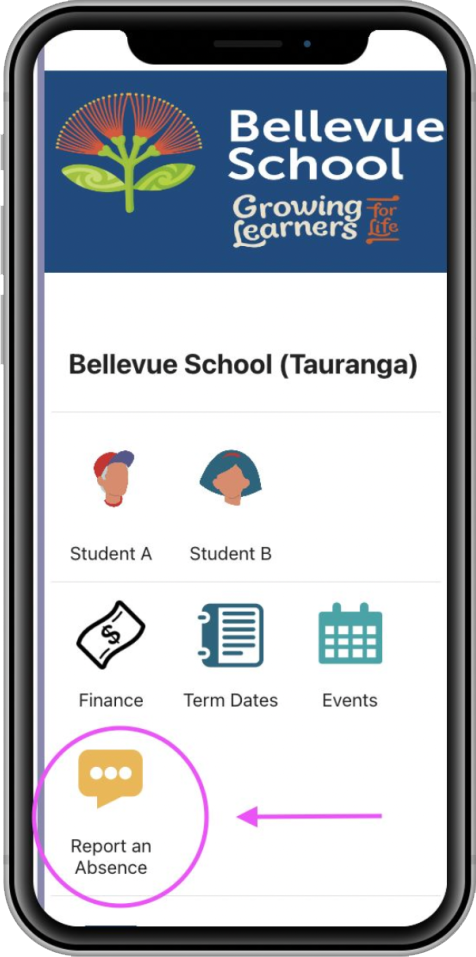 School payments
At Bellevue School we have Eftpos or internet banking to pay for sports fees or camp. If you need to make a payment, please come up to the office to see our Finance officer.